Written by
Matt B
· first published 31/01/2008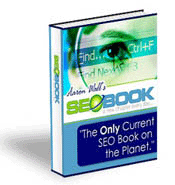 Today I am going to be talking about SEO. I am not going to be talking about how to do it but rather I am going to cover what SEO can do for your website, business, blog or reputation. SEO Stands for Search Engine Optimisation and it is a topic I am going to touch on a few times in the coming weeks.
To help cover this topic more effectively I have even gone so far as to obtain an advertiser known to be an expert in the subject. So don't say I never do anything for you...
Having spent a long time having a good long hard look at the state of websites in Thanet I can see that there is only a minimal grasp of even the existence of SEO. If you are one of the few that have understood the basics then I apologise if I make things too simple but I feel it is important to arm Thanet businesses with the tools that can help us all prosper online and off here in tag:Thanet.
The short story is that correctly applied SEO makes your site easier to use, more pleasant to read, brings more visitors and reduces the chances that your site is in breach of certain UK laws. Laws that insist that a disabled person be able to access your site. While the aim is more visitors these other things are a pleasant side effect.
How it all works and how to apply it is todays topic...
...
» Continue Reading: You Donít Have to Be A Geek to Understand SEO